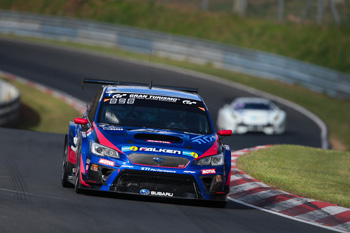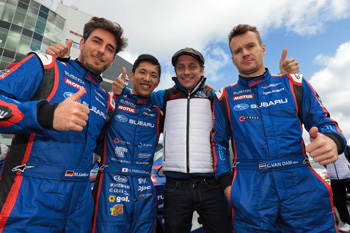 SUBARU TECNICA INTERNATIONAL INC. (President: Yoshio Hirakawa) will be entering their SUBARU WRX STI 2017 NBR spec machine into the "ADAC Zurich 24 Rennen" (more commonly known as the 24 Hours of Nürburgring / abbreviated to "NBR") to be held from May 25th (Thurs) to 28th (Sun) at Germany's Nürburgring. STI has become one of this year's focal points as this will be their 10th year competing since first taking on the prestigious race in 2008. After taking SP3T class victory in 2015 and 2016 they will be aiming for three consecutive victories this year.

The driver line up for the STI team will be the same as last year with Carlo van Dam (Netherlands), Marcel Lasse (Germany), Tim Schrick (Germany), and Hideki Yamauchi (Japan) taking the wheel. Acting as team principal will be Shigeo Sugaya. Engineers in charge of developing STI complete cars and STI sports parts were involved in building up this year's race car and will also be on site to take a central role in managing the team. They will be working with 6 dealer mechanics that have been dispatched by special Subaru dealers nationwide with the aim of taking victory at the end of the 24-hour race.

The SUBARU WRX STI NBR race car that will be competing is based on the 2017 SUBARU WRX STI and has been modified and strengthened in order to take on Nurburgring. This year STI utilized all the experience, know-how and data that they have accumulated competing at Nurburgring until now and have developed a highly-regarded car that achieves not only a balanced drive, but also a seriously fast pace capable of recording competitive lap times. In particular, improvements have been made to extract the maximum amount of power from the engine, a paddle shift has been installed that reduces time lost when changing gears, while refinements have been made to the chassis and aerodynamic performance. These enhancements enabled the team to record lap times close to their goals during official qualifying for the 24-hour race held in April. Furthermore, the team went on to perform numerous laps during on site tests held on May 15th and they will be heading into this race with more than enough evidence of the car's potential. The SUBARU WRX STI has been classified into the SP3T class, for vehicles mounted with 2-liter turbo engines, and this year they will be going up against 12 powerhouse rivals within the whopping 161 car event.
The race week schedule will begin when the team gathers on site on May 23rd (Tues). From that point, they will practice pit work, prepare for vehicle inspection, assemble race equipment, and set up the paddock. Then, after running the race car through practice and official qualifying held on May 25th (Thur) to 26th (Fri), the race will start at 3:30pm local time on the 27th.