Tokyo, 13 January 2017 – Fuji Heavy Industries Ltd. (FHI) and Subaru Tecnica International Inc. (STI) today announced the outline of their motorsport activities for 2017.

With their Horizontally-Opposed Engine and symmetrical AWD system, SUBARU vehicles provide drivers with 'Enjoyment & Peace of Mind' and the same can be said in motorsports. 'Enjoyment & Peace of Mind' means that drivers can control the car much like an extension of their own body and thus, they can feel totally secure and enjoy driving, and to demonstrate this, STI will again compete in motorsports under the toughest of conditions.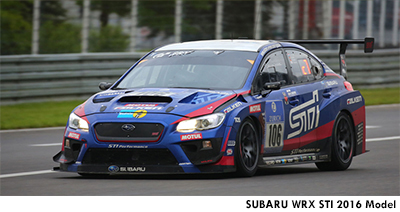 Nürburgring 24-Hour Race
STI will take part in the 45th Nürburgring 24-Hour Race at the Nürburgring circuit in Eifel, Rheinland-Pfalz, Germany from Thursday 25 to Sunday 28 May with the SUBARU WRX STI. In this car they have incorporated the knowhow and technology acquired through the development of STI Complete Cars and Performance Parts. This will be a milestone year for them too as this is the 10th consecutive year for STI to compete in the race since 2008.

Exploiting the advantages of the production vehicle, STI have been developing and improving their 2017 race car to enhance its speed, and at the same time, to allow the driver to manoeuvre the car at will. To be more specific, the car has been equipped with increased engine output, a paddle shift, and a revamped transmission for improved acceleration and top speeds. In addition, cornering speeds will also be improved by the optimization of chassis geometry, better balance of rigidity, a lighter body, reduced inertia moment and increased front down force.

Competing again in the SP3T class for cars with turbo charged engines of 2-litres or less, and where a number of leading European manufacturers jostle with each other, the team will be aiming at a third consecutive win and fifth victory in the class.
Following last year, Shigeo Sugaya from STI will act as Team Manager while STI employees and dealer mechanics selected from SUBARU dealerships across Japan will operate the team. As for drivers, those who led the team to a back-to-back win last year will return; Carlo van Dam from the Netherlands; Marcel Lasée from Germany; Tim Schrick from Germany, and Hideki Yamauchi from Japan.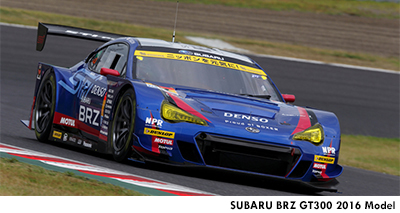 SUPER GT Series
Following last year, SUBARU and STI will run a SUBARU BRZ GT300 in the GT300 class of the SUPER GT series, the most prestigious motorsport category in Japan.

For the 2017 season, they will prepare well by introducing a lighter vehicle weight, better aerodynamic performance and improved inertia moment in addition to improvements in the heat efficiency of the horizontally-opposed Boxer Engine to avenge last year's defeat.

The team will be operated under the supervision of Project General Manager Makoto Shibuya with Hideharu Tatsumi from STI as General Team Manager and the driver duo of Takuto Iguchi and Hideki Yamauchi. Together with R&D SPORT, the mainstay of team operations, SUBARU and STI will be aiming to win the series title.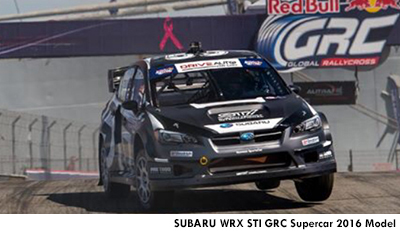 Global Rallycross Championship
SUBARU and STI will step up their technical support for the SUBARU Rally Team USA, which participates in the Global Rallycross Championship (GRC). Combining the elements of a circuit race, an off-road race and a rally, the GRC is a popular series in the USA. At STI, development of the car will be conducted under the supervision of Project Senior Manager Akira Nomura. In addition to enhanced engine output, upgraded durability and reliability as well as improved launch control, they will also seek for optimization of geometry, increased rigidity and decreased inertia moment to further increase cornering speeds. All of these will be done with an aim to satisfy both speed and performance, which allows the driver to manoeuvre the car at will, at a high level.

The driver pair for the team will be Chris Atkinson, a former SUBARU World Rally Team driver, who started participating in the GRC mid-season last year and took a pole position in Round 12 in Los Angeles, and Patrick Sandell, a well-known figure in the GRC. The team will be operated by US-based Vermont SportsCar.