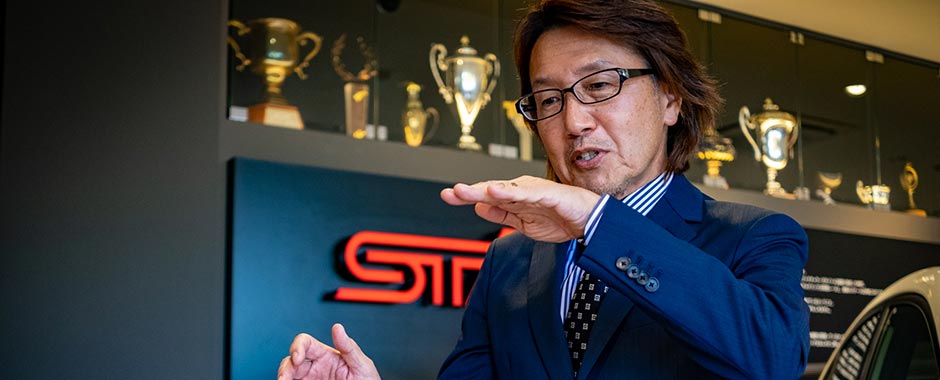 "We would like to compete in the world with the best ever STI."
This project started with this thought.
This has been work to bring STI's ultimate idea of 'speed' to fruition.

STI is a company and brand, which was born for SUBARU to compete on the international stage in order to prove its excellence.
The history of STI is a history of challenges.

This challenge is now in the hands of the best ever STI car. With an S, an indication of a top-end STI product in its name, this model has the most ideal specifications possible.
"STI believes that driving fast means drivers can control the speed at will."
If a car relies on a large displacement and power and is only fast on a straight, would you call it a fast car? We wouldn't.

Not only winding public roads, but also on a circuit where cars compete at speed includes multiple corners and road conditions are always changing.

We believe that cars must be fast regardless of different circumstances.
You can say that a car is fast when you can control the speed at will. When a car allows the driver to turn, stop and accelerate at any time and anywhere they wish with peace of mind, this car could be said to be fast.
"Our DNA of speed has been polished through challenges in the international arena."
STI has been competing in motor sports to prove its speed and put its six stars on top of the world.

We competed on the international stage for the first time at the Southern Cross Rally in Australia in 1973.
After the start of our full-fledged participation in the WRC in 1990, we achieved three consecutive manufacturers' titles.
We then moved to circuit racing and gained six class wins in the Nürburgring 24-hour race –allegedly the toughest race in the world.
We have taken on challenges in various fields.

While doing so, there is one thing that we have always stuck to. We have always competed with the package –the SUBARU Boxer Engine and Symmetrical AWD, which is the same as in our production cars. Both successes and even failures in such competitions later paid off, and we have proven the advantages of the SUBARU package under ultimate conditions where we race with a production-car-based competition vehicle.

We have acquired an approach and attitude towards the development of cars by competing on the world stage, something which makes up our DNA and which has been applied in the development of STI cars.

"It has been like an endless journey."
"It has been like an endless journey."
You cannot generate 'speed which the driver can control at will' by just improving the engine power, and even more so by enhancing suspension performance. All the constituent parts of the car – from the engine, body, suspension, tires and even down to a single bolt must be of very high quality to ideally work together. These must function in synchronization.

Without making compromise in the ideal we hold out, we have repeated a cycle of continuously trying out unknown areas, failing from time to time and then trying again to embody the ideal. That has been a very hard journey. However, we have opted to bite the bullet because we believe that there should be cars which only STI can create.
"341HP was achieved as a result of the continuous effort put into the great EJ engines."
To deliver the 'speed which STI thinks it should be', we needed to strengthen the engine first.
STI has been refining the EJ engines for more than a quarter of a century through motor sports.
As the heart of the S209, we decided to mount the most powerful engine in STI history which was based on the EJ engines.
That being said, we did not blindly pursue high power. We sought for a good balance between increased power and reliability.

To enhance power, we introduced a mushroom-shaped air cleaner used in racing rather than the platy one which is used in the road car structure, in the inlet system to fundamentally reduce intake resistance. This air cleaner is fitted in a dedicated air cleaner box and combined with a dedicated air intake duct with reduced intake resistance to form a high-efficiency system. A large volume of air is led from this system to a large turbo charger specially developed based on the turbo charger for racecars. As for the exhaust system, we specially designed a low-back-pressure muffler which is equipped with a large bore tail pipe, creating a sound which invites the driver to rev the engine.
While a dedicated ECU controls these to minimize turbo lag, we have succeeded in producing the high output we pursued. Furthermore, the intercooler spray, developed to win races, prevents overheating.
Meanwhile, in order to secure reliability, we have identified the optimal specifications by repeating demanding tests.

Eventually, we were able to achieve 341HP – the highest in the EJ engine's history only because we had gone through some ups and downs for a long time, racing with EJ engines.
"Aiming for ultimate handling"
To realize speed, ultimate handling which can fully take advantage of the output of the 341HP was also required, and this could not be done just by replacing a part.

We have figured out various parts and components for this car after repeatedly testing them to achieve ideal cornering; the DUNLOP 265/35/R19 high-grip tire with the BBS forged aluminum wheel with expanded width to 9.0J, a specially developed BILSTEIN damper, a dedicated coil spring as well as reinforced bush, and the dedicated body widened with over-fenders to accommodate these components. In addition, this car is also equipped with STI original flexible parts proven in the Nürburgring 24-hour race such as the tower bar and front/rear draw stiffeners, the carbon roof which is light and optimizes rigidity in the vehicle's body and a number of aero parts which rectify airflow and increase down force including the front under spoiler, front bumper side canard and large dry carbon rear wing.

We have made these components to work together in a delicate balance to make all four tires always make contact with the ground. Thus, all the engine power is transferred to the ground without waste, and the car reacts quickly to a driver's intention in order to realize handling that the driver can control at will.

The S209 is the best car in the world in making sport driving enjoyable.
"Our challenge with the S209 in the world is not the goal; it is actually the start."
At SUBARU, I was involved in the WRX STI in the design, testing and product planning for a long time, and the current WRX STI is my work which I have confidence in. I am very pleased to know that this car is loved by so many customers. I have also felt through interactions with them that there are customers around the world who love STI very much, and that they highly expect STI to introduce special cars with further enhanced performance.

It was when I moved to STI later on, that one wish arose.

That was to develop STI's latest evolution, the S model; a car only possible as a limited-production complete car beyond the framework of SUBARU's mass production, and based on the current WRX STI that I myself developed. I wanted to rise to the challenge in the world with the S.

Since then, I have been passionate about realizing the S209 with the many engineers involved in this development project.
This car is the best that STI has created; it is the best that STI technology can offer. I am looking forward to seeing how our customers rate this car.

Even with this excitement, STI will not stop evolving.
STI will continue to improve and so rise to the challenges in the world beyond the S209.

Masuo Takatsu
Senior General Manager, Development Division
SUBARU TECNICA INTERNATIONAL